Pilar beneito
....Pasión por las olas..Passion for the waves..Passione per le onde....
Detrás de una gran escuela, siempre hay un gran equipo, este es el secreto de Fuerte Tribu, profesionales apasionados del mar, el surf, y dedicados a trasmitir y compartir su pasión. Detrás de todo el proyecto de Fuerte Tribu, está su directora Pilar Beneito "Pili"; alma mater, crack del surf, madre y enamorada de la vida y de Fuerteventura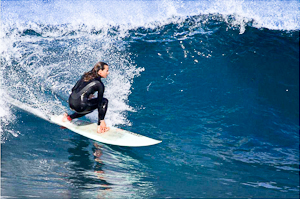 Background
....Desde niña se sintió atraída por el mar, y siendo aún adolescente, se inició al surf en las frías aguas de su Mar del Plata natal. Pronto su ciudad se le quedó pequeña y emprendió la ruta que toda apasionada de las olas debe emprender alguna vez. El surf la llevó por medio mundo, de Chile a Cabo Verde pasando por Brasil, Hawaii, Perú, Francia, Marruecos y España. Representó a Argentina en el mundial de Brasil 2000, y hasta estuvo en el programa de TV Cracks del Surf. En el año 2010, ya totalmente asentada en Fuerteventura, funda Fuerte Tribu, un club de surf infantil que se convertiría con el tiempo en el referente del surf a nivel local, llegando a instaurar el surf como deporte extraescolar. Actualmente, además de dirigir la escuela de surf y el programa de "surf adaptado", acercando este deporte a personas con dificultades motoras, cognitivas y sensoriales..As a child she was attracted to the sea, and as a teenager, she began surfing in the cold waters of her native Mar del Plata. Soon her city was too small and she undertook the route that all passionate of the waves must undertake sometime. Surfing took her half the world, from Chile to Cape Verde, passing through Brazil, Hawaii, Peru, France, Morocco and Spain. He represented Argentina in the World Cup in Brazil 2000, and was even in the TV program Cracks del Surf. In 2010, already fully established in Fuerteventura, founded Fuerte Tribu, a children's surf club that would become the benchmark for local kids surfing, eventually establishing surf as an extra-curricular sport. Currently, in addition to directing the surf school and the "adapted surfing" program, bringing this sport closer to people with motor, cognitive and sensory difficulties..Da bambina fu attratta dal mare e, da adolescente, iniziò a navigare nelle fredde acque della sua nativa Mar del Plata. Ben presto la sua città era troppo piccola e intraprese la strada che ogni appassionato di onde deve intraprendere prima o poi. Il surf le ha portato mezzo mondo, dal Cile a Capo Verde, passando per Brasile, Hawaii, Perù, Francia, Marocco e Spagna. Ha rappresentato l'Argentina nella Coppa del Mondo in Brasile nel 2000, ed è stato anche nel programma televisivo Cracks del Surf. Nel 2010, già completamente stabilito a Fuerteventura, fondò Fuerte Tribu, un club di surf per bambini che sarebbe diventato il punto di riferimento per il surf a livello locale, stabilendo infine il surf come uno sport extra-curriculare. Attualmente, oltre a dirigere la scuola di surf e il programma "surfing adattato", avvicinare questo sport a persone con difficoltà motorie, cognitive e sensoriali....
....Creemos en el surf como herramienta de aprendizaje holístico, inclusivo e integrador..We believe in Surfing as a holistic, inclusive and inclusive learning tool..Crediamo in il surf come uno strumento di apprendimento olistico, e inclusivo....
….Instructor de surf y Carving skate, amante de su trabajo, surfista pasional y practicante de las artes del Falun dafa. Un gran maestro de la vida..Instructor of surf and Carving skate, lover of his work, passionate surfer and practitioner of the Falun Dafa arts. A great teacher of life..Istruttore di surf e carving skate, amante del suo lavoro, appassionato surfista e praticante delle arti della Falun Dafa. Un grande maestro di vita….
....Maestre Paolino, artista inigualable de la pizza, la paciencia y la sabiduría. Con sus buenas artes ayuda a los mas chiquitos en sus primeros chapuzones..Maestre Paolino, unparalleled artist of pizza, patience and wisdom. With his good arts he helps the little ones in their first swims..Maestro Paolino, artista impareggiabile della pizza, pazienza e saggezza. Con le sue buone arti aiuta i piccoli nelle loro prime surfate....
…Foto, video, arte, cariño, estética. Sin palabras, su arte se ve en cada momento, en cada color, en cada luz de nuestras historias @dragonfly_pix..Photo, video, art, love, aesthetics. Without words, your art is seen in every moment, in every color, in every light of our stories @dragonfly_pix..Foto, video, arte, amore, estetica. Senza parole, la tua arte è vista in ogni momento, in ogni colore, in ogni luce delle nostre storie @dragonfly_pix…
Instructor y longboarder freak